Face masks. There are so many different types of face masks and for many different issues. It can be really hard to find one that can work with your skin and actually make a difference. So here are 4 face masks that I can vouch for and that should be in everyone's beauty regime!
1.MDs Pick Water Rubber Mask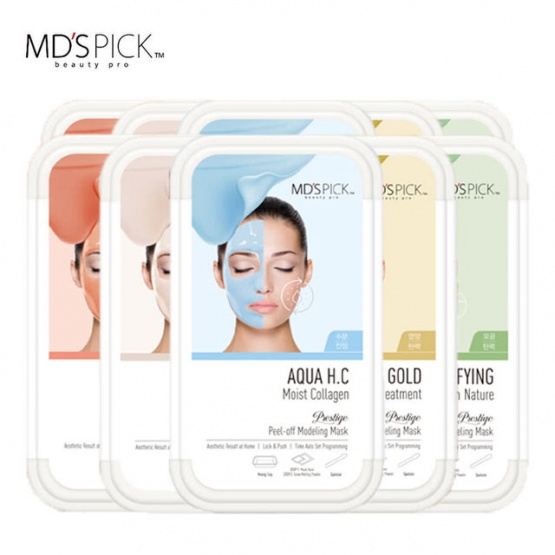 Each MD's Pick Modeling Rubber Mask begins with an alginate base infused with brightening licorice extract, soothing centella extract, and revitalizing ginger extract.
There are 5 different kinds: Aqua Moist, Clarifying, Goji, Lux Gold, and Pearl Brightening. Aqua is for hydrating and plump skin with collagen. Clarifying is exactly what the name entails, purification and pore tightening with tea tree and other herbs. Goji is all about anti-oxidizing and moisturizing. Lux Gold is meant to help with exhausted skin and to provide nutrients to the skin. Last but not least Pearl is for revitalizing and and brightening the skin.
MD's mask is one where you need to mix two packets to create the "rubber". The great thing is that it comes with a spatula and you can mix it in the packaging. It sounds a bit daunting but making the mask is quite easy. Just add the two packets together and mix for around 1 min. From there you have 5 minutes till the mask "solidifies" and you can't apply on your face. There is a lot of product, so you can extend down past the jawline without any worries. Keep on for 20-25 minutes and then peel off! No need to rinse off after either. I have read somewhere you can leave on for 40 minutes if you need more moisturizing.
Free of parabens and mineral oil.
2. Lindsay Modeling Mask
Just like MD's Pick, Lindsay is also a Korean mask.  Made with alginate and a blend of botanicals and clays, which helps to clean dead skin and other impurities.
There are 8 different face masks: Charcoal, Collagen, Calendula, Vitamin, Pearl, Cool Tea-Tree, Gold, and Lavender. Charcoal is a magnet for dirt and oil, helping to control sebum. Collagen helps to plump the skin and moisturize.  Vitamin helps with brightening skin and soothing and irritation. The Pearl mask helps with dull tired skin to give nutrition and brighten. Cool Tea-Tree is good for soothing, cooling and help to make pore tight. Gold has actual gold extract which helps with calming irritation and revitalizing tired skin.  Lavender contains essential antioxidants to help cleanse and combat environmental pollutants. Leaves skin more even toned, moisturized and radiant.
The difference between the Lindsay masks and the MD's Pick is that you add water to make the mask. Just add water to the line marked in the cup and mix. Once applied wait 10-15 minutes and peel off. Rinse off any remaining mask.
Free of parabens and mineral oils.
3.Wei Golden Root Purifying Mud Mask
Wei Beauty is a brand that I happened to stumble upon when browsing through Sephora's website. It is a Traditional Chinese Medicine (TCM) beauty brand created by Wei Brian that has a farm to face philosophy. Meaning that the brand focuses more on the ingredients to create a product that benefits skin to the fullest effect.
The Golden Root Purifying Mask is a mud mask that is smooth like a mousse that is meant to deeply cleanse skin, purges toxins and impurities, and minimizes the appearance of pores and blemishes. Golden root is the main ingredient is and is found high in the mountains. It's known to help counteract cell damage. Another main ingredient is pure China clay which absorbs toxins and removes dead skin. The jujube fruit ingredient has anti-inflammatory properties.
The mask comes in a small pod meant for one application. A brush is included in the set to help with applying the mask. There is a generous amount of product. So no need to apply a thin coat. Once the product is on you can immediately feel the cooling effect from the jujube extract. Wait 10 minutes and rinse off the mud mask! Use 1 – 2 times a week..
Free of parabens.
4. Blithe Splash Mask
This face mask by Blithe is probably one of the easiest masks to use. Ever. Again another Korean brand and I use some of their other products in my daily routine as well. The splash mask or patting mask is literally a 15 second mask that gives you an at home spa treatment. The mask contains a concentrated blend of lactic acid and botanical extracts.
There are three different kinds: Yellow Citrus & Honey, Soothing & Healing Green Tea, & Rejuvenating Purple Berry. The one I use is the Purple Berry, it's good for elasticity and firmness. Yellow Citrus & Honey is for brightening and glowing skin. Soothing & Healing Green Tea is for oil control and clarifying pores.
There are two ways to use the mask. The easiest way is in the shower. Take a 1/2 to 1 cap full in your hand and pat onto face. Then take some water and splash! The second method is to add a cap full to a bowl of water (1 cap to 700ml of water) and then splash and pat in till face is damp.
Free of parabens, synthetic dyes & fragrances, and mineral oils.
So there you have it! 4 face masks that actually work and will help change your beauty game. Most of these can be found at either  GlowRecipe or sephora. Specifically in Singapore you can find these at Sephora, Lazada, Qoo10 and Cocomo or Alibaba.
Happy masking!
Aleeyeh